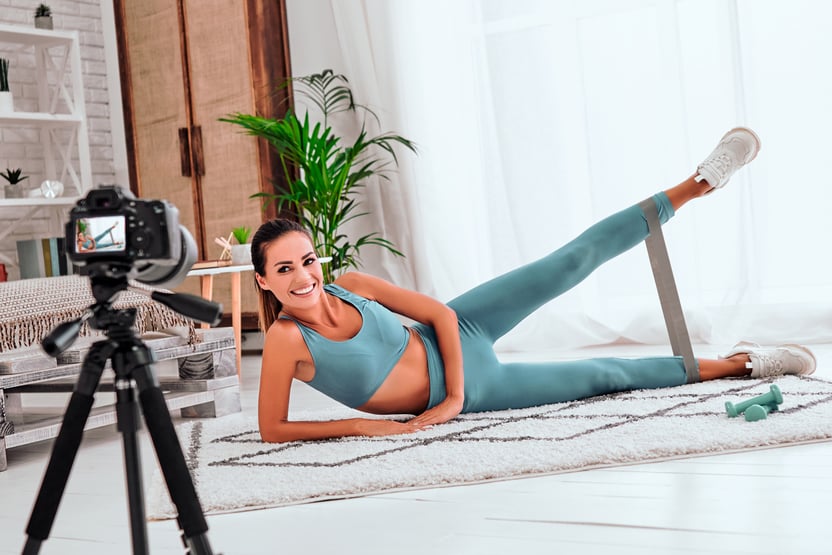 In the past 2 years, the entire world has pivoted to virtual offerings in the comfort of their own homes. If you haven't gone online yet with your biz, it isn't too late!
7 Reasons to Launch Your Online Fitness Business in 2022
1. CONNECTION
The very first reason you should launch your fitness business online is because you are missing out on connecting with your existing client-base and potential new customers if you're not online! Going virtual removes physical barriers of time and location. People on the other side of the world could view your content, opening you up to a broader audience. It's easier than ever to connect now!
2. QUALITY
Pre-recording your videos allows for better quality when compared to a livestream class. You don't have to worry about the internet dropping out or the video pixelating while streaming. Pre-recording also allows you to go in after filming and add text to the screen, cut out any mistakes/filler words and overall create a high-quality video for your audience.

3. VALUE
Offering videos on demand has a higher perceived value than someone tuning in for a live class. Without too much additional effort, you can charge more for the same content by offering it on-demand. Charing more can also help you cover editing and filming costs, again, allowing you to offer a higher quality product.

4. EFFICIENCY
Instead of trading time for money (teaching a single virtual class) you can film multiple videos in one day and offer them in your on-demand library. This creates an additional (passive!) revenue stream and allows you to monetize your offerings even while you sleep. You can then focus on promoting your videos and connecting with your audience via social media and email newsletters.

5. EASE
Take the pressure off of filming by knowing you can pause and re-record or edit out anything you don't like later. There's no need to be perfect! But it will allow you to make sure that the product you're delivering is free of filler words or content that isn't valuable to the viewer.

6. TECHNOLOGY
After your videos are recorded you can easily enhance them with graphics and timers to make them even higher quality. An additional benefit to this is it gives you more creativity with your videos and allows you to brand them with your logo, signature, colors, etc.
7. ROYALTY FREE MUSIC:
Use Royalty Free music in your fitness videos to make sure you stay legal and legit in your business. We have an entire collection of premixed albums specifically formatted for fitness. We also have single songs available so you can make the perfect soundtrack for your videos.

Please visit RoyaltyFreeFitnessMusic.com to learn more and sign-up for a membership! You can read more about RoyaltyFreeFitnessMusic.com in this blog post.
Have you launched your online fitness biz yet? If not, what's holding you back? 👇 Let us know in the comments!