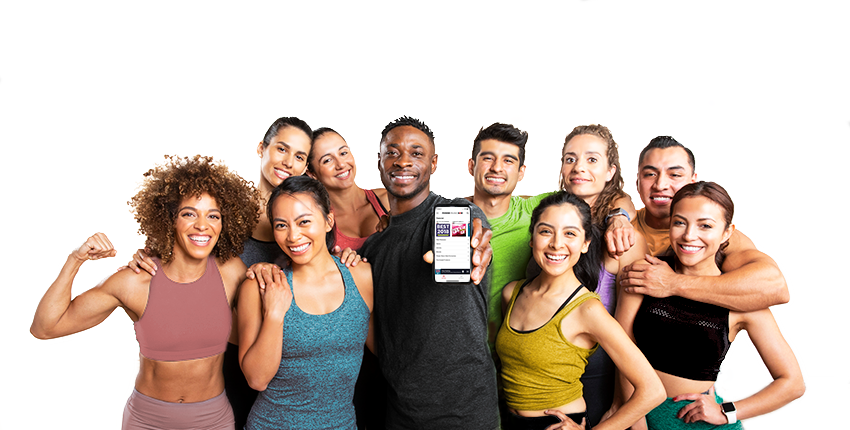 As you know, music can make or break your class and the right music app can save you time and make the job of pulling together a great playlist easy and fun. The best APPs provide easy downloading, playlist creation, gapless playback, tempo adjustment, timers, and more.
Every fitness instructor has an opinion about which music apps deliver and which don't, but you should have the knowledge to make up your own mind.
Comparing Major Music Services
No review of music apps would be complete without a look at the big music players: Spotify, Google Play, Amazon Prime Music, and Apple Music reign supreme as the premier music options in the game. These apps offer extensive libraries, professionally curated playlists for different moods and genres, and the ability to have playlists automatically made to match your listening style.
All of your favorite original artists are available at the touch of a button, curated for your listening pleasure, with new releases and unique artists at your fingertips. Pretty cool!
However, all of these mainstream music services have limitations for the modern day Group Fitness Instructor.
Music Challenges for Fitness Instructors
The most precious commodity is YOUR time. Putting together an amazing playlist can certainly consume a lot of hours. The more resources you have at your fingertips the more efficient you can be at curating the ultimate mix so you can present a professional and energetic class.
Scrolling through the top songs on iTunes, or checking out one of the "Workout" playlists on Spotify can certainly provide some inspiration. The problem we've found with a lot of mood and workout playlists, is that they are made for a consumer, not a specific genre of class, and they are never formatted correctly. This leaves heavy lifting for the instructor to come up with replacement songs for tracks that don't have the right tempo or feel, or aren't organized correctly which throws off the entire flow of the mix. Another big issue these days is songs with explicit language or themes (yikes).
Once the track selection and organizing is done, more challenges await.
What if your class needs 32 count? Can the tracks play gapless?
What if some of the songs would sound better at a slightly higher or lower tempo?
What if your class is kicking butt and you want to up the tempo of your mix on the fly?
These things are simply not available through the major music services, and it can leave you searching out 3rd party APPs and services which only costs you more time and energy.
This is where POWER MUSIC NOW can help!
Why POWER MUSIC NOW is the best choice
Power Music Now, will eliminates many of the problems that major consumer services present.
Right off the bat there are over 750 pre-mixed albums for you use (and more added every month.) These albums are class genre specific and can be used as an out of the box solution. Got a kickbox class to teach this weekend? No problem, search "kickbox" and the app will populate with our latest and greatest releases for you to review. Lock in on one you like, load it to the player, and you're done.
Another great use for the pre-mixed albums is inspiration and formatting. Check out what we've put together and then map out your own mix which is fun and easy!
Make your own mix using Clickmix. ClickMix is our proprietary mixing service that allows you to pick the songs, arrange the order, add gaps (or not), adjust the BPM of each song individually, and then beat mixes them all together into one non-stop 32 count mix. You literally become the DJ. This service provides so much flexibility and customization, your mix will truly be a one of a kind masterpiece!
Don't need 32 count and all that jazz? Ok, then let's create a simple playlist instead. We have over 10,000 fitness remixes avail to you, AND, you can also pull in songs from your own device (in case you really want that original version of "Thank You, Next" alongside our great remixed tracks.) Again, this is really fun, and super easy to do.
You can go back and edit any of these mixes or playlists anytime, which can save a LOT of your time down the road.Once your mix or playlists is ready, simply load it into the player. The player on our APP allows you to adjust the tempo of the mix on the fly, live in class!
There are a few more bells and whistles.
At the beginning of each month we release POWER MUSIC NOW exclusives. These are the latest hit releases from around the world put into a mix for you to either use as is, or to pull these new tracks into your own mixes and playlists.
The APP also has a stopwatch and a HIIT/TABATA timer built in so you never have to switch from your music app to your timer app.
You can use the app in airplane mode (no more DINGS, PINGS, and Phone calls!)
We are also constantly adding new features that come from user feedback to improve our service and make your job (and life) easier. We hope you'll give POWER MUSIC NOW a try. It's FREE for 30 days with NO obligation.
Group Fitness has finally gone mobile, and we'd be honored to be a part of your classes! Sign up for your free trial here. *You can also sign up through Apple or Google Play if you prefer.
Steve Feinberg is the founder and creator of SpeedBall Fitness and a contributor to the Power Music blog. Connect with Steve at speedballsteve@speedballfitness.com